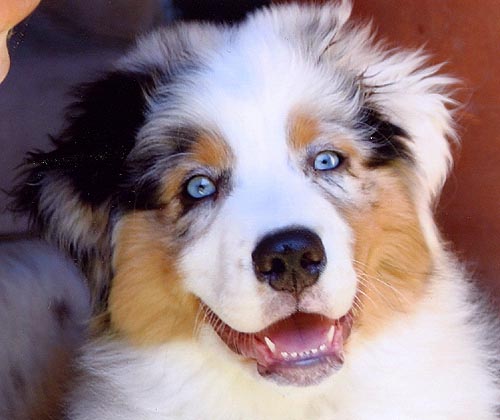 UKC BIS CH ATCH III RaineDance Mischief In 3D HCT CA AX AXJ XF CGC
"Bryce"
BAER tested with full hearing
CERF clear @ 8wks

6/10/07 Bryce heads off to a new adventure with his new family in Encino, California. Good luck you guys! Alex and Alan report that Bryce has made the transition (and the long drive!) extremely well.
11/11/07 (AKC sanctioned match) Best of Breed Puppy & Group 4!
9/30/07 (ASCA) Best of Opposite Sex Puppy!
Under Judge Helga Kane
8/26/07 completes his International/National Puppy Championships!
With 4 top ratings and a Best of Breed Puppy!
7/1/07 Bryce makes his ASCA debut and brings home
Best of Breed Puppy! Out of 12!
Handled by Carrie Racey, Under judge Donna Wright












Check back here for updates and pictures until these guys have their own pages.
RaineDance Ticket To Mischief CD RE CAA RN CGC
"Emmit"
CERF Clear @ 8wks

Emmit joins his new family in McKinleyville, CA with Teresa King and RJ Wlley and "MU" the cat! Good luck you guys!

6/16/07 Emmit has his first ASCA show and brings home
THREE Best of Breed Puppy Awards!
Under judges Shawna Beaty, Patty Wirries & Cathy Davis