Turc and Nikolaas (you can see them on the Memories page) had died in the last half of 1999, at ages 14 and 15, and Sarah, who was also 15, was diagnosed with cancer in January of 2000. As most of us know, the loss of a beloved pet is sad beyond words, and losing 3 pups in a 6 month span is unimaginable. So Sarah had her spleen removed, and was given a "6 month to a year" life expectancy. But to my surprise and great relief, her health improved so dramatically, the puppy "seed" was sprouting.....(Update. Sarah has died, on June 30th, 2001. She is hugely missed.)
Emma's Story Begins on the Internet....
Years ago I had decided my next dog would be an Australian Shepherd. I had numerous reasons, (that I contemplated regularly!) taken from books, conversations and experience. I had done my research! I had even seen the type I wanted at the carwash in 1995...she was an Ebbtide Kennels girl, and I had the scrap of paper with the owner's name in my purse for 6 years. Now was FINALLY the time for action.
click image (7 pics)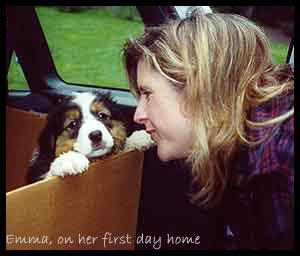 So I scoured the internet for breeders and information. I went to the dog show at the Cow Palace and I started e-mailing breeders....but there were very few litters available to look at, most of the puppies were spoken for before they were even born! And then I found "Katie" on the Lakehills Australian Shepherds web site. She was perfect! And she had puppies and their pictures were right there on my monitor. I scrolled through the pictures frantically, there were nine of them!
Through numerous phone calls and e-mails, Lisa described the parents temperaments and confirmed my feelings about Katie. But the Lakehills Kennel is located 3 hours drive time from my house...I thought for sure there must be something closer. So I wasted time deliberating and looking locally. And the puppies were getting bigger, and they were being spoken for. I had to make a decision. So I called Lisa and I purchased Emma sight unseen. Just a picture on the net of her beautiful parents and "Black Girl #4" at 6 weeks of age. Click here to see Emma @ 6wks!

Click here to read more about Em.............