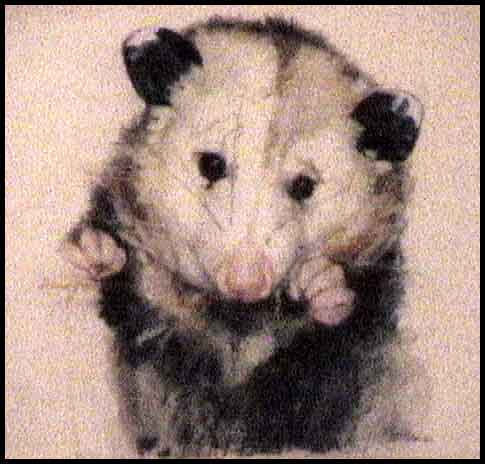 Original work by Elizabeth Sutton
Displayed in exhibition titled:
"The Object of My Affection"
I was so taken with Henry's picture, I asked the artist if I could post her intro:
"The older I get the more nutty I get about animals. At last count, I have 18 of them. Two donkeys, a number of cats (in case my mother reads this) and a Border Collie mix, Mr. Frank E. Ryder, whom I introduce as my husband.
My happy endeavor in life is to get to know and ingratiate myself with as many animals both tame and wild as I can.
If it comes to a tossup between who I'd rather speak to, or shake hands with, you can bet it's the dog wagging his tail rather than the person holding his leash.
The exception to this habit is this show, "the Object of my affection", because all the animals including Alice the chicken and Henry the opossum belong to people I admire and whose hands I would be honored to shake.
They work to balance inequities, speak out against injustice and each person in his own way lives by his conscience.
I thank them for their love of animals, for the example they set of givnig back to the community and for giving me someone to believe in."